AAA Certification for
Mobile & Plant-Based Operation
SecurShred has been awarded the AAA certification for Mobile and Plant-Based operation by the National Association of Information Destruction (NAID). On occasion, document shredding is performed by our security professionals at our secure plant.
Unauthorized access to the designated secure destruction area and client records is effectively prevented.
There is a monitored alarm system in place and utilized when the secure destruction building is unoccupied.
There is a closed circuit camera system monitoring all access points and processing activity in the secure destruction building. Recordings are retained for 90 days in an organized, retrievable manner.
Confidential material is picked up and transported in our locked vehicles to our secure plant. A completed and signed Materials Collection Receipt is supplied to you prior to our departure from your facility. The destruction of the material is guaranteed to take place within 3 business days of pick-up. All paper material is 100% recycled.
The first AAA NAID Certified destruction company in Vermont for mobile 
and plant based destruction of paper documents and hard drives.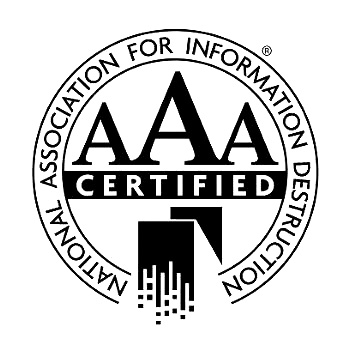 Certified security means a reduced risk of information leaks from your business. The National Association for Information Destruction (NAID) is the only recognized certifying organization for the information destruction industry. NAID regularly and randomly audits our facilities and processes, delivering peace of mind for you that we handle your information securely. SecurShred complies with the NAID Certification Program standards for secure destruction processes including operational security, employee hiring and screening, equipment, policies and procedures, responsible disposal and insurance. SecurShred is insured and bonded in the unlikely event of any security breach. An information destruction industry specific Errors and Omissions policy additionally insures against shredding related activity security breaches.